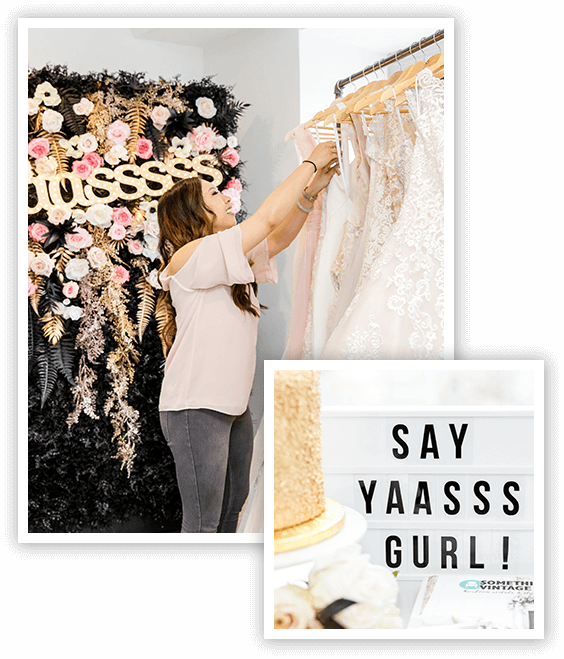 contact us!
Events
Washington, DC
Valentine's His & Hers // Grace + Ivory at Ezra Paul
February 15th - March 1st, 2019
–
where. Washington, DC
what. Grace + Ivory will be setting up shop for two weeks with Ezra Paul Clothing for a post Valentine's "His & Hers" event! We're creating a new bridal experience in DC with accessible pricing, custom options, and made-to-order dresses arriving at your door in 3-4 months. As part of our beliefs and social agenda, a portion of every dress purchase goes to programs helping women and girls in need. Everyone is welcome to come browse our gorgeous wedding dress samples from our made-to-measure bridal collection and future grooms can check out Ezra Paul's off-the-rack and custom suit and tux options. To give our brides-to-be the best service, try-on bridal sessions are by appointment only, so please book your private appointment here!

Location:
Ezra Paul Clothing
1608 17th St NW
Washington, DC 20009
202-518-7285

Contact us: hello@graceandivory.com

Hours for February 15th - March 1st:
Tuesdays (closed Feb. 26th): 11am - 7pm
Wednesday: 11am - 7pm
Thursday: 11am - 7pm
Friday: 11am - 7pm
Saturdays: 12pm - 5pm
Sundays: Shop closed, booking bridal appointments.
Seattle, WA
THE BIG FAKE WEDDING
Thursday, November 15th, 2018
–
where. Seattle, WA
what. We are very excited to be the featured dress vendor for the upcoming BFW event in Seattle! "Complete with dinner and drinks, an emotional vow-renewal ceremony, and a dance-party reception, The Big Fake Wedding is a killer alternative to a bridal show. 'Wedding guests' are brides- and grooms-to-be who get to truly experience the wedding vendors in action. Tickets includes a swag bag, light bites, and sparkling wine."
Washington, DC
HIS & HERS // GRACE + IVORY AT EZRA PAUL
May 30th - June 2nd, 2018
–
where. Washington, DC
what. For all the future brides asking where we are popping up next, we're excited to announce that we'll be in DC for 4 days at Ezra Paul from Wednesday, May 30th through Saturday, June 2nd! Come browse our gorgeous samples from our made-to-measure bridal collection and future grooms are welcome to check out Ezra Paul's off-the-rack and custom suit and tux options. Come create the perfect His & Hers duo and have a look that is all your own on your big day.

Want a more personal one-on-one?
Book a private bridal appointment for our Ezra Paul event!


His & Hers with Grace + Ivory:
Ezra Paul Clothing
1608 17th St NW
Washington, DC 20009
202-518-7285

Contact us: hello@graceandivory.com

Hours:
Wednesday: 11am - 7pm
Thursday: 11am - 7pm
Friday: 11am - 7pm
Saturday: 12pm - 5pm
Washington, DC
Grace + Ivory at BUREAU
April 7th/8th, 2018
–
where. Washington, DC
what. We're excited to bring made-to-measure bridal back to DC and we want to help you say "Yasss" to the dress! Join us for a uniquely awesome beauty bridal event at BUREAU the weekend of April 7th and 8th. We'll have our made-to-measure dresses to see and try-on, bridal accessories to peruse, local make-up artists and hair stylists, a lash bar, and some delicious sweets for noshing. The incredible Taylor & Hov duo is co-hosting this incredible event with BUREAU, so you know this shindig will be out of this world.

Stop by our boutique bridal Open House, grab a mimosa, and receive personalized guidance on how to look and feel flawless on your dream wedding day. And don't forget to schedule to one-on-one bridal appointment with Tina Zysk, the founder of Grace + Ivory herself, for your custom fitting. Take it from us -- once you slip on a Grace + Ivory creation, you won't look back... just in the mirror, gurl.

Grace + Ivory Pop-Up Beauty Squad:

Made-to-Measure Wedding Dresses: Grace + Ivory
Venue: BUREAU
Creative Design & Styling: Taylor + Hov Events
Accessories: Little Things Borrowed
Beauty Vendors: JKW Beauty - Lash Bar (April 7th)
Desserts: Classic Bakery (Tysons)
Florals: Designs by Oochay
Cutlery, Glassware, and Plates: Something Vintage
Photography: Iris Mannings
Backdrop Design: Brightly Ever After

Open House, April 7th & 8th | 10:00am - 3:00pm
For private one-on-one appointments, please email hello@graceandivory.com

BUREAU
1800 Wyoming Ave NW
Washington, District of Columbia 20009